The Huawei Mate Xs is the latest foldable phone from Huawei and improves upon the original Huawei Mate X in a number of ways. It features an improved Falcon Wing hinge design that is stronger and makes it easier to unfold the Mate Xs.
Huawei has also improved the durability of the phone with a quad-layer construction using polyamide film.
Unlike every other foldable phone that we have seen where the foldable screen is protected inside a clamshell and complemented by an external screen, Huawei sticks the screen on the outside perimeter of its Mate X devices.
The advantage of this design is that you have the primary screen readily available and it's all part of one big display, but this also may make it more susceptible to damage.
Huawei Mate Xs Features and Specifications
The Huawei Mate Xs features Huawei's latest Kirin 990 5G chipset which is built on 7nm+ technology and is the only chipset with an integrated 5G modem. Huawei also provided a very generous 512GB of storage on the Mate Xs and while 8GB of RAM handled all the apps we threw at it without any issues, we would have liked to see Huawei equip it with 12GB to make it a bit more future proof.
The primary camera on the Mate Xs is a Leica branded 40 MP, f/1.8 primary camera with an RYYB sensor that's capable of taking great low light shots. Also present is an 8 MP, f/2.4 telephoto lens fixed at 52mm or 3X zoom and a 16 MP, f/2.2, 17mm ultra-wide module.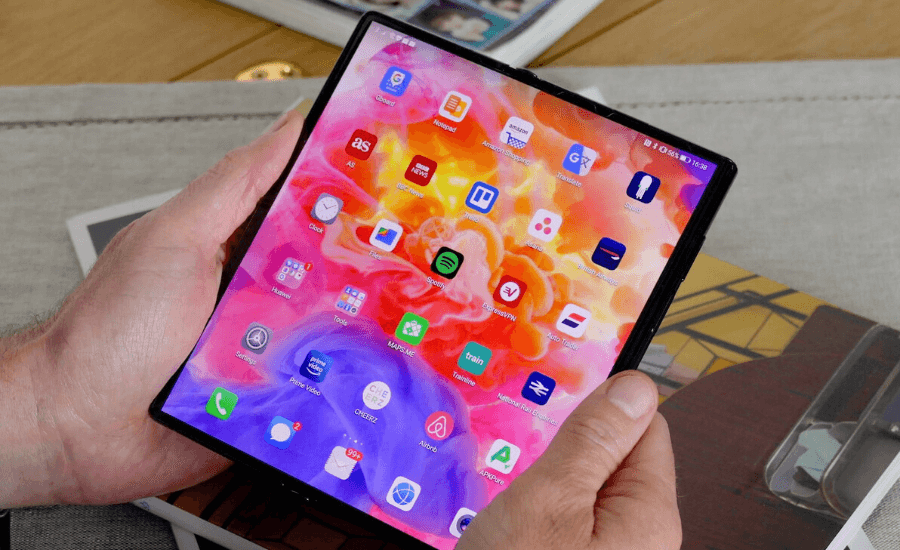 If you thought smartphones had reached their pinnacle with pricing, think again. The Huawei Mate Xs is priced at £2,299 / AED 9,999 (around $2,746 / AU$4,205). and there is only one configuration available for it which is with 8GB RAM and 512GB storage.
Foldable phones are all expensive and the Huawei Mate Xs is no exception though it is pushing boundaries with its pricing. That being said, there is no foldable phone like it in terms of design and with the lack of GMS, the Mate Xs is definitely not for everyone.
By pricing it on the higher side, Huawei is playing the exclusivity game.
All the foldable phones that we've seen so far hide the foldable screen inside the device, whether that's the Galaxy Fold, Galaxy Z Flip, or the Motorola Razr. What this leads to is a primary display that's hidden most of the time and complimented by a secondary display.
Huawei throws that notion out of the window by bending the main screen outwards so that the same screen can be used in both a folded and unfolded state.
There's a button on the back that springs the display up about 60 degrees. Then, you raise it further to a fully flat state where it snaps into place. The reverse of this process locks the screen back onto the phone and that's how it manages to keep the screen flat when the Mate Xs is in a folded state.
In a folded state, the OLED screen size is 6.6-inches in size which is about the size of a screen you find on most large phones. It has a resolution of 2480 x 1148 and is bright enough to be used outdoors in the sun with ease.
The bezels around the screen are slightly thicker than other recent phones, but there's no notch or punch-hole camera taking up space within the screen.
Huawei phones aren't equipped with Google Mobile Services (GMS) due to the US Government restrictions of what many publications are calling the Huawei ban.
Huawei has started building its own framework (Huawei Mobile Services) and it attempting to replace the Google Play Store with its new App Gallery. That's what you get on the Mate Xs.
While there are third-party apps available on App Gallery such as TikTok and Microsoft Office, it still has a lot of catching up to do.
Huawei has equipped the Mate Xs with its latest chipset which is the 7nm+ based Kirin 990 along with 8GB RAM and 512GB of storage. While we had no complaints on the performance of this device, we were surprised to not see it equipped with 12GB RAM like the Samsung Galaxy S20 Ultra.
The Kirin 990 chipset has an integrated 5G modem that supports some but not all 5G networks. That may mean your network or carrier will be able to support the Huawei Mate Xs, but this is something you'll want to check with your service provider before buying the Huawei Mate Xs.
The Huawei Mate Xs is equipped with two batteries packs that combined offer a capacity of 4,500mAh. We found it held up quite well during our testing, and it always lasted a full day from a single charge.
Though there are a few foldable phones already available, none of them are like the Huawei Mate Xs. Its expansive 8-inch screen along with the 6.6-inch primary display make it an ideal foldable in both states.