Xiaomi expanded its smart accessories and TV lineup in Europe. In addition, Company also provides information that Currently, the camp's AIoT device has 213 million active users worldwide.
The MI 65-inch 4S TV It is a television that was launched in China back in September. The new Mi True Wireless (TWS) Earphones 2 which are the global version of the Mi AirDots Pro 2.
Xiaomi Mi True Wireless Earphones 2
Xiaomi Mi True Wireless Earphones 2, which is the same version of the headphones around the world, the same model as the Mi AirDots Pro 2, which was released in China in September, this version of the Mi TWS 2.
With a driver size 14.2 mm, supports Bluetooth 5.0, LDHC Hi-Res, and has two microphones to reduce noise cancellation noise. Compatible with MIUI smartphones to use automatic connections such as fast Including a sensor for capturing, removing, or wearing headphones the music will stop playing automatically.
The headphones support gesture controls or can answer calls, hang up the phone, and support voice assistant. The battery can be used for 4 hours, while the case can have an additional 14 hours of battery charging via the USB-C port.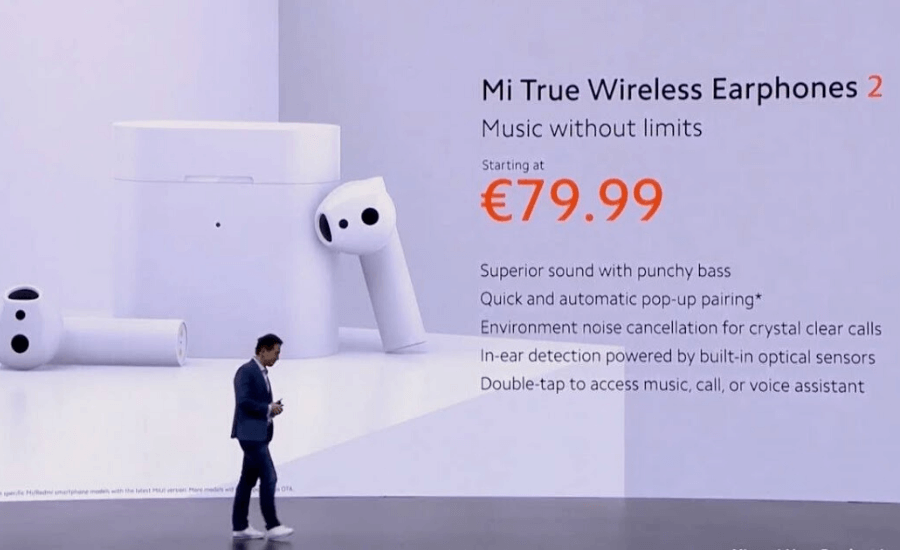 Mi True Wireless Earphones 2 launches at a price of 80 Euros in white, one color.
Xiaomi Mi TV 4S 65 "
Finally, the Xiaomi Mi TV 4S has a 65-inch LED screen with 4K resolution, supports HDR10 +, and MEMC technology. The body is made of aluminum, 10W speakers, supports Dolby Audio, DTS-HD, internal memory 16GB 2GB RAM, and Use the Android 9 operating system.
It also supports Bluetooth Low Energy, dual-band Wi-Fi, HDMI x3 ports, USB x3 and Ethernet x1 as well as a built-in Chromecast.
The Xiaomi Mi TV 4S 65 "launches at a price of about 549 euros and will be available for sale on June 15 in Europe.
Xiaomi AX3600 Wi-Fi 6
Next is the Xiaomi AX3600 Wi-Fi 6 router, which supports data transfer of up to 2,976 Mbps using a Qualcomm 6-core processor with 7 independent antennas.
Use a single-pole for a dedicated AIoT device and with 6 separate external amplifiers that can connect up to 248 devices at the same time
AX3600 Wi-Fi 6 launches at a price of 120 euros and will be on sale on June 15 onwards.
There is also a rumour Xiaomi will introduce Redmi K30i which will be a cheaper version of the Redmi K30 Series.