The Asus Zephyrus Duo joins several future-gazing new gaming devices from companies like Asus and Acer – particularly the Asus Mothership and Acer Predator Helios 700 – that seek to revolutionize how gaming laptops are built, especially at the high end. 
Asus Zephyrus Duo 15 GX550 review
At an eye-watering $3,699 (about £2,990, AU$5,410), the configuration of the Asus Zephyrus Duo GX550 is only for people that either has a ton of cash to burn or absolutely need the best performance they can possibly get.
If you were to ask us, one of the biggest things contributing to this high price tag is the inclusion of a second screen that lifts up at an angle above the keyboard when you open the laptop. This is a touch screen with a super-sharp 4K resolution and generally looks pretty excellent. But again, it's definitely a luxury you can live without if you want to save some cash. 
For years, gaming laptops have always had kind of an edgy design, with either black or gunmetal gray designs, red accents, and RGB lighting. While the Asus Zephyrus Duo definitely takes some of these design elements and runs with them, we can't help but feel like it's a bit more refined than a lot of other gaming devices.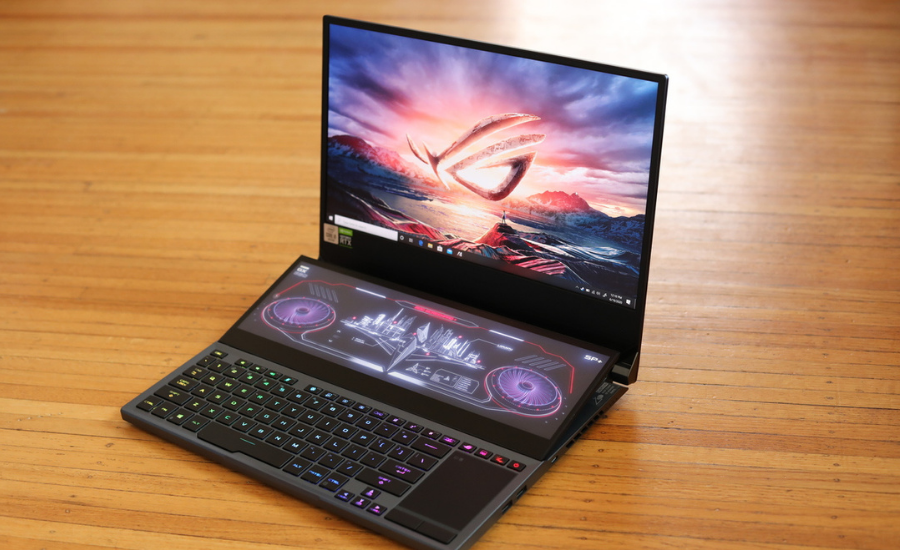 The lid of the laptop is this sleek gunmetal gray color, with the Asus ROG logo being the only thing that stands out. And, rather than that logo being some garish shade of red, it's simply chrome, which means you won't have to hide it in your meetings. 
That gunmetal gray color covers most of the chassis, too, but when you open the laptop, the truly notable design elements will immediately catch your attention. 
Everything isn't rosy with the Asus Zephyrus Duo, though. The trackpad is shoved off to the right-hand side of the laptop, which definitely takes some getting used to. That's not a dealbreaker on its own, but it's also one of the smallest we've seen in a premium laptop in years. There are two dedicated clicker buttons below the trackpad, and they're not the most reliable, which makes us wonder why Asus didn't just get rid of those and put a clicker below the trackpad like most laptops these days. 
We get that most people using this laptop are going to be using an external mouse, but that actually reveals another problem with this laptop: ports. One of the biggest selling points of a thick desktop replacement device is that there should be a wealth of different ports. 
And, while this laptop does have 3 USB-A ports, a Gigabit LAN port, and an HDMI port, it's definitely missing the SDXC port that a lot of creators rely on. Instead, if you want SD support, you're going to have to live the dongle life – something you shouldn't have to do with a laptop that weighs upwards of 5 pounds.
Packed with an Intel Core i9-10980HK, an Nvidia GeForce RTX 2080 Super with Max-Q, and 32GB of RAM, the Asus Zephyrus Duo GX550 is obviously a powerhouse. However, the creative cooling solution leads to performance that is similar to what you would see on a desktop. 
For instance, in Cinebench R20, this laptop scores 4,045 points, which is just 17% slower than the Intel Core i9-9900K – a processor with a TDP that is more than twice the 45W that the 10980HK in this laptop is configured to. 
You see, laptops like this don't even need a long battery life. Typically, they've always plugged into the wall anyway, but with 5 hours and 3 minutes of battery life in the PCMark 10 battery test, you can definitely get some work done without needing to be plugged in.
The main display is one of the most color-accurate displays in a gaming laptop, and if you want the colors to pop in either AAA PC games or your own creative work, this is the laptop for you.