There was a time when phones were designed just to make calls. These days, they're pocketable personal computers with the power to handle work and play. In the case of the latter, sometimes to the extreme – which is the whole idea behind the Red Magic 5G gaming phone.
Red Magic 5G is the latest of a small fraction of smartphones built specifically with gamers—particularly esports enthusiasts—in mind.
Red Magic has been busy in the gaming phones space for some time. Nubia is the company behind this phone, which in turn makes it a ZTE phone.
There's no doubt that the Red Magic 5G ticks all the spec boxes – the first 144Hz display in a phone, the top-end Qualcomm SD865 – at an affordable price.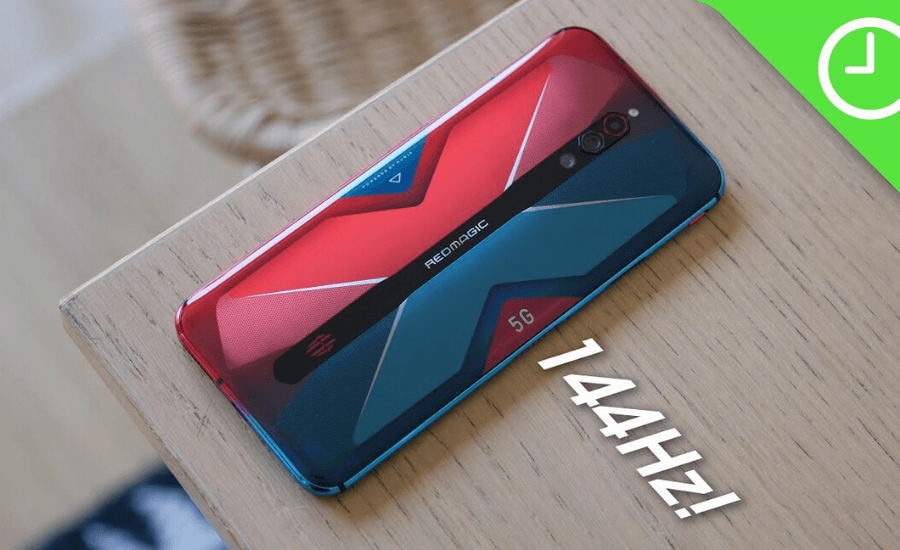 This is a pretty big and heavy phone, with a design similar to last year's Red Magic 3S. While the aluminum back has been dropped in favor of a glass one, and the earpiece is slightly smaller, it's otherwise pretty similar.
On the right side, you have the capacitive triggers, volume and power keys, and an exhaust vent. The left has a switch that takes you to a "Game Space" mode, a pogo pin connector for the company's "Magic Adapter" dock, and the corresponding intake vent.
The headphone jack is up top, and the Type-C port, dual SIM tray, and down-firing speaker are on the bottom.
In-hand, it's a very chonky phone. Folks that don't know better tend to dismiss differences of a few mm on a spec sheet out of hand, but the extra couple it has over even the Galaxy S20 Ultra are immediately felt.
It's an awkward device to use as a phone, and there will be plenty of times a button or menu's positioning will force a two-handed maneuver.
Gaming phones are a special niche and much more useful as secondary devices, which makes it less of a problem — you're probably not going to using it for the same things. But if you are, keep the size in mind.
Just because it's a big phone doesn't mean it has the biggest screen, though. At 6.65″, it's actually smaller than the one in the OnePlus 8 Pro (6.78″) or the Galaxy S20 Ultra (6.9″), and it hits a lower resolution to boot.
When it came to game performance, the phone was solid. The capacitive triggers are a bit touchy, but you can configure their sensitivity a little bit, and they add quite a lot to some genres, like shooters.
The Red Magic OS (v3.0, skinned over Google's Android OS) always feels a little fussier than a stock Google Android.
Things like notifications are excessive, not customisable to the right extent. Furthermore the addition of 'Colorful Light Effects' – which can be easily switched off within the settings – becomes a distraction to excess for us.
At least it's customisable, though, so you can decide just how jazzed-up your Red Magic 5G can be. Other points, such as the alarm not sounding when in silent, or the fingerprint scanner is a generation behind in its responsiveness, show the lack of detail in the small-yet-important areas.
Red Magic 5G: 144Hz display noticeable?
A huge part of the Red Magic 5G appeal is its 144Hz screen. Typically speaking phones have a 60Hz refresh rate, i.e. that's how many times per second they cycle through a screen.
A number of devices, such as the Huawei P40 Pro, up that to 90Hz – which is a 50 percent boost. Then the OnePlus 8 Pro (among others) went to 120Hz – doubling the typical refresh rate.
We get the need to promote 144Hz. It's a big deal because it's currently a unique proposition – which is a word we don't get to use often. But it's the scale, the panel technology itself, the brightness, that are the key aspects here.
Red Magic 5G really doesn't cut any corners when it comes to power and, therefore, gaming prowess. The Qualcomm Snapdragon 865 processor at its heart makes sure of that.
The Red Magic 5G also comes with a fan cooling system. Well, it's not just a fan, there's also a liquid cooling pipe to aid the system's cooling graphite pad, thermal conductive copper foil, and thermal gel.
Red Magic 5G is rather thick in build terms though. In order to aid heat dissipation – the result of clocking that processor hard for sustained periods – you need more space, more thermal solutions.
The 4,500mAh cell on this phone is large as these specs go, which is great news. Even with 144Hz turned on all day long, a full day of work, and a dabble in some gaming sessions, we were going to bed with over 50 percent battery remaining. On a long 18 hour day, we still had above 30 percent remaining.
There's an 18W fast-charge facility, though, so top-ups are reasonably fast. The Red Magic can recharge much quicker, using a 55W Quick Charge plug.
Camera Specifications
Red Magic 5G keeps camera specifications a little more simple. It has a triple camera system which has a 64-megapixel main, utilising the Sony IMX686 sensor, which has been used successfully in other top-tier devices and also a selfie camera with 8MP.
The Red Magic 5G is all about gaming. And on that front, it's got all the goods for success: top-drawer processing, great cooling, long-lasting battery life, a customisable gaming space, 144Hz display, shoulder triggers, and optional additional controllers.
The Red Magic 5G is a gaming device at a price of $579.