Big doesn't necessarily define the Note series anymore. Samsung Galaxy Note 20 Ultra is a massive phone in the hand, requiring two meaty paws to operate it, but it shares the same 6.9-inch screen size with the S20 Ultra. Large is no longer exclusive to the Note.
What's different is that Samsung found ways to make the Samsung Galaxy Note 20 Ultra design better, not necessarily bigger. It has a polished look with a less reflective glass back that also happens to reduce unsightly smudges.
The copper-toned Mystic Bronze color stands out most of all with this frost-coated glass back, while the less stylish Mystic Black and Mystic White options for those who don't share our impeccable taste.
Samsung Galaxy Note 20 Ultra Review
Samsung's latest top-of-the-line Note continues to buck the trend that outfits phones with rounded corners. It stands straight up with a more square frame, which is only softened on the right and left sides by the curved Infinity Display.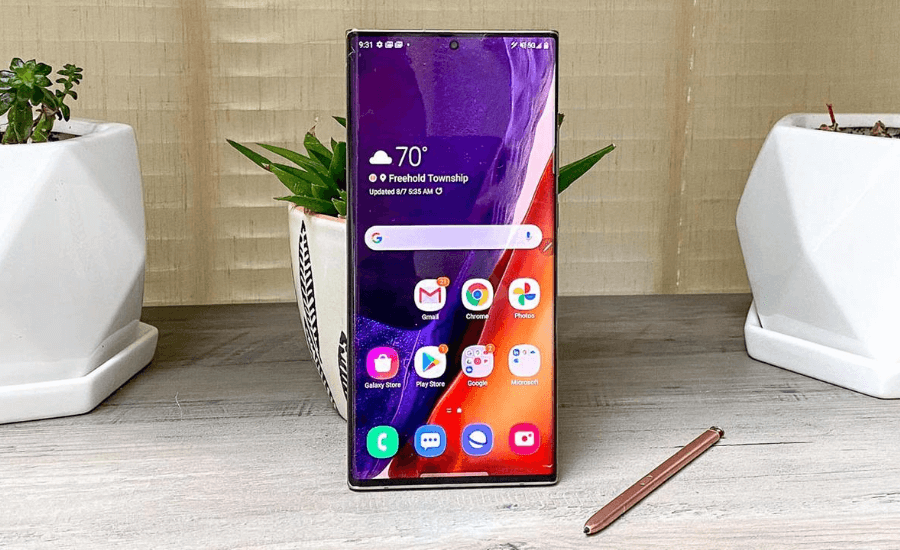 Is this squared-off frame better than a rounded one? That's highly subjective, but it allows for the S Pen to easily slide straight up into the left side of the phone – a minor change from the right-side slot where previous Note phones had you holster the stylus.
The Samsung Galaxy Note 20 Ultra has the best display on any smartphone – that's usually the case for new Samsung phones for about six months, until the company unseats itself with newer display tech.
Samsung has already wowed us with a 6.9-inch 120Hz display on the S20 Ultra, but the compromise here is the same as with that phone: you have to choose between 120Hz in 1080p, or dropping to 60Hz to enjoy the QuadHD resolution. 
The decision is an easy one: the 120Hz 1080p setting looks good out of the box, and most people we know who are upgrading from the Note 8 have been impressed. The 6.9-inch screen isn't big enough to see individual pixels, and we won't truly need higher resolutions until foldable phones become mainstream.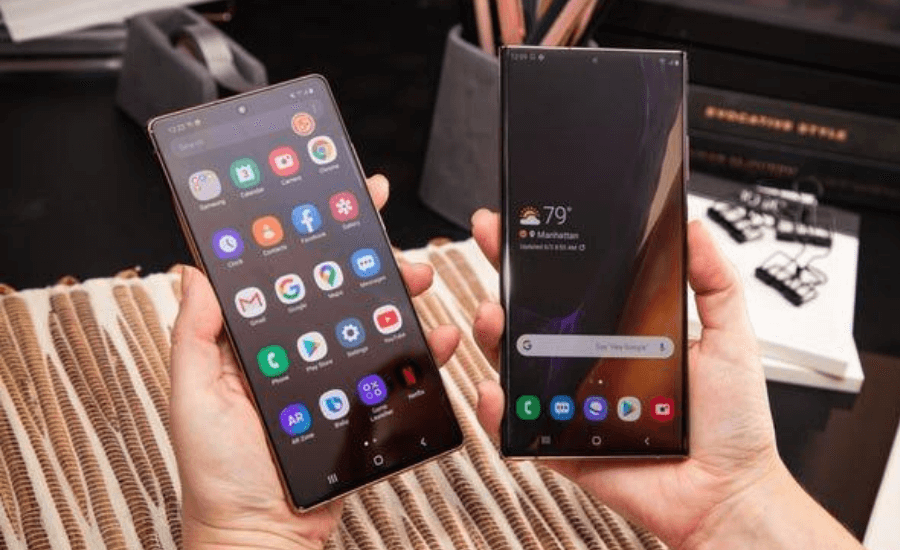 The 50x zoom reach is more than enough, and the biggest deal is the souped-up 5x optical zoom – not digital, not hybrid optical, but optical. The telephoto camera also has a slightly wider aperture than the one on the S20 Ultra: f/3 rather than f/3.5, to allow more light to hit the camera sensor and besting the 0.8-micron pixel size with 1.0 microns, again to improve light-gathering. There's a tighter field of view on this camera (20 degrees instead of the S20 Ultra's 24 degrees), and it's 12MP instead of 64MP, but we don't see issues, only improvements.
The Samsung Galaxy Note 20 Ultra consistently lasted us a full day on a single charge with normal use. It's not Samsung's longest-lasting phone, and that comes down to the curbed battery capacity compared to the S20 Ultra – 4,500mAh for the Note 20 Ultra vs 5,000mAh for the S20 Ultra. That said, we found it to have enough juice for most power users who gravitate to a Note.
In addition to solid all-day battery life, Samsung has packed in fast 25W charging, fast 15W wireless charging, and Wireless Power Share, so that you can top off someone else's Qi-chargeable device, or perhaps your own earbuds. It's also equipped with a comprehensive range of power-saving options when you're the one in a pinch for power.
The Samsung Galaxy Note 20 Ultra has it all – almost: a big screen, superb camera, high refresh rate, the S Pen, in-screen fingerprint sensor, super-fast specs, 5G speeds, a fancy curved display. This phone is built for power users who want everything but the fastest charging speeds.
Distance no longer matters. The Samsung Galaxy Note 20 Ultra camera, with its 5x optical zoom and 50x digital zoom, gets you really, really close to things. Photo quality diminished beyond 5x optical in low light and 10x zoom in good light, but what's available here is way more useful than everyone else's 2x zooms.
Click here for Oneplus Nord Review.