The Samsung Galaxy Note 10 is Samsung's easiest to use S Pen-toting phone yet, and while there may not be any game-changing features to make this a must-buy handset, it's a solid addition to the Note range.
Samsung Galaxy Note 10 Review
If you're looking for Samsung's ultimate top-end device you'll want to opt for the Note 10 Plus, but if you want to save a bit of money, or you're after a smaller phone with a stylus, this is the Note to go for.
Note 10 Plus has a noticeably larger display, and it comes with a few upgrades under the hood and in the camera department compared to the standard model. 
First and foremost, the introduction of a Plus handset in the Samsung Galaxy Note 10 range has ensured the normal handset doesn't feel as gargantuan as it has done in previous iterations.
The Note 10 fits much more comfortably in the hand than the Galaxy Note 9 or Galaxy Note 10 Plus, but it's still a difficult phone to hold for those with smaller hands.
Samsung Galaxy Note 10 isn't just smaller than the Note 9, it's also lighter and thinner. It measures 72 x 151 x 7.9mm, and at 168g it's one of the lighter flagship Samsung phones.
Again, this is still a big phone and those with smaller hands will likely struggle to use it one-handed – don't expect it to be as easy to use as handsets like the iPhone SE or Sony's Compact line of Xperia phones.
The Samsung Galaxy Note 10 has a 6.3-inch AMOLED display with a Full HD resolution, coming in at 2280 x 1080 pixels, with 401 pixels per inch. It includes HDR10+ technology, and considering that Samsung hasn't opted for a QHD display here we're impressed with how the display looks. 
The frame of the phone is a premium metal, while the back is made of glass. Your color options are Aura Glow (a combination of blue and white), Aura Black, and Aura Pink, but it's currently unclear which markets will get which colors.
Samsung has opted to put a 3,500mAh battery inside Note 10, and while it's not the most stunning battery life we've experienced from a smartphone it's sufficient to last you through a day of normal usage.
Samsung Galaxy Note 10 comes with some impressive fast charging, allowing us to plug it in for a period of about 15 minutes and gaining enough to make it through to the end of the day.
If you've used the Galaxy S10 or S10 Plus, you'll find that the Galaxy Note 10's camera isn't an exciting upgrade over those phones. It's using the same combination of a 16MP ultra-wide lens, a 12MP regular lens, and a 12MP telephoto lens.
These combine to deliver a fantastic photography experience, and the camera is particularly good in its automatic mode.
This isn't the very best phone camera you'll find at the moment, but it offers a solid enough experience that is likely to be better than your current smartphone if it's a couple of years old.
Most of the Samsung Galaxy Note 10's improvements in the camera department are in its video recording capabilities. The image stabilization technology has been improved, and there's a new feature called Live Focus Video, which enables you to capture 'bokeh' background blur effects of the kind we're used to seeing in portrait-mode stills.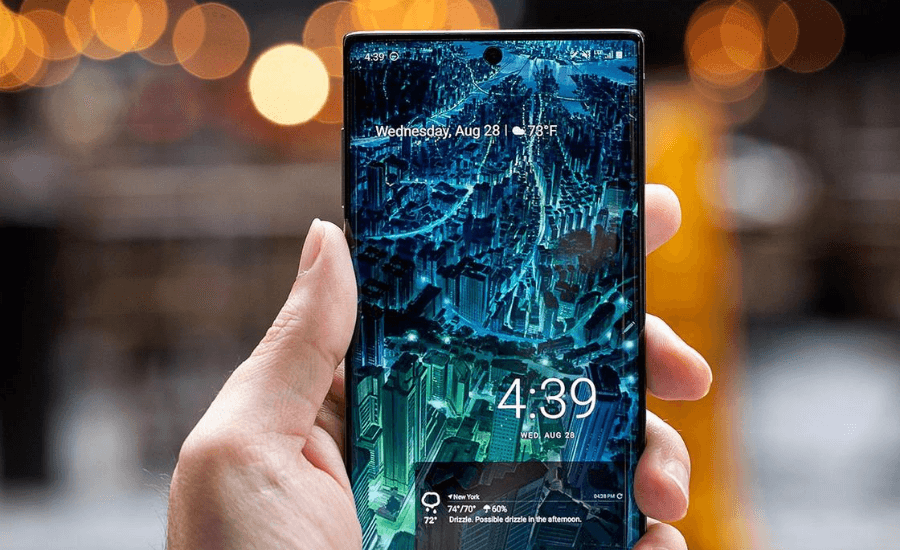 Samsung's interface doesn't look exactly like the raw Google Android software, but it has an attractive design that's easy to use for the average person if they've had an Android phone before.
It's called Samsung One UI, and we find it easy to navigate around the phone while using the variety of apps Samsung has chosen to include.
There isn't much pre-loaded on the phone, so aside from the standard Google apps and a small selection of Samsung ones, you'll have to download a few from either Samsung's Galaxy Store, or the more likely choice of the Google Play Store.
This is Samsung's newest flagship chipset and it's both smaller and more efficient than its predecessor. In benchmarking tests, we found the Snapdragon 855 version of the phone scored 11,167 in Geekbench 4. That was even better than the score of 10,849 that we saw on the Galaxy Note 10 Plus.
The Samsung Galaxy Note 10 is packing 8GB of RAM, and it's only available with 256GB of storage – there's no microSD support, and Samsung says this is to help keep the literal size of the device down. 
That's plenty of space for the average user, but if you want more you'll have to opt for the Note 10 Plus, which comes with up to 512GB of built-in storage as well as microSD support.
Another feature that's been dropped in the effort to keep the Samsung Galaxy Note 10 slim is the 3.5mm headphone jack. This is the first time Samsung has dropped the jack from its top-end phones, and some will be unhappy with the decision. 
You'll be able to use the USB-C port at the bottom of the phone for certain headphones (including a pair in the box), but it may mean you'll have to replace some of the cables you currently use.
The battery life can be disappointing on the Galaxy Note 10, and the lack of a 3.5mm headphone jack may irritate some, but the phone is the full package for most people.
Samsung Galaxy Note 10 price tag is set at $949 / £869 / AU$1,499. Unlike some other handsets, you won't end up spending more than that as it only comes in one storage size and therefore one price.