The LG V60 is the most refined flagship we've seen from LG, and with its free Dual Screen peripheral/case, 5G connectivity, and good specs, the phone stands out from its rivals. But its extra display space is clunkier in execution than foldable out there, leaving it more appealing to niche consumers. Still, as one of the more affordable 5G phones out there, the LG V60 has appeal for the average consumer, even if it doesn't outperform other flagships.
LG V60 ThinQ Review
The LG V60 is a confident step beyond the conservative black rectangle designs of its predecessors and into the more stylish territory. By itself, the phone has looks we'd expect on a Samsung flagship, including a pearl-hued glass back, gold-ish trim around the camera bump, and burnished aluminum sides. 
It's not quite surpassing other top-tier phones in looks, with thicker bezels than you'll see in the Samsung Galaxy S20 line, and a teardrop notch where those phones have a small punch-hole for the front-facing camera, but the phone certainly looks more impressive than previous LG flagships. 
The LG V60's standout feature is the Dual Screen, which functions much like the identically-named peripherals that come with the LG V50 ThinQ and LG G8X ThinQ. The Dual Screen works like a firm folio case, opening up to reveal a second display with the exact same dimensions as the V60's screen – plug the phone into the Dual Screen's USB-C plug and snap it into place, and voila, you have twice the screen real estate.
To turn on the Dual Screen's display, you tap the small white dual-arrow icon (by default this is on the right side of the display) to expand a small menu with options to swap screens or to put the main screen to sleep – if, say, you wanted to watch media on the second display and dim the first to save battery.
Doing the above might be useful since, as it's an unpowered peripheral, the Dual Screen runs off the LG V60's battery, and predictably, using it drains the battery, even more so if you're running a demanding task like watching media; this can be mitigated in the usual ways, by dimming the brightness of either display. The Dual Screen will automatically turn off when the battery drops to 10% so that you don't fully deplete your phone, although that will also close whatever app you're in.
The LG V60 packs a 6.8-inch OLED display with a narrow 20.5:9 ratio. While its FHD+ resolution (2460 x 1080) is technically less dense than the WQHD+ (3200 x 1440) panels on the Samsung Galaxy S20 line, we didn't notice much of a difference, certainly with lower-resolution media, like that shown on Netflix or Hulu, anyway; in side-by-side comparisons with an iPhone 11 Pro Max and Galaxy S20 Plus, though, the V60's display held up in terms of sharpness but exhibited some occasional issues, such as bright skies that were blown out instead of being rendered as subtle color gradients. 
In other words, it lacks a bit in terms of dynamic range, but you'd only notice in side-by-side comparisons. The V60's display supports HDR10+ for a bit more clarity in movies and other media, which keeps it more on par with displays on other flagships.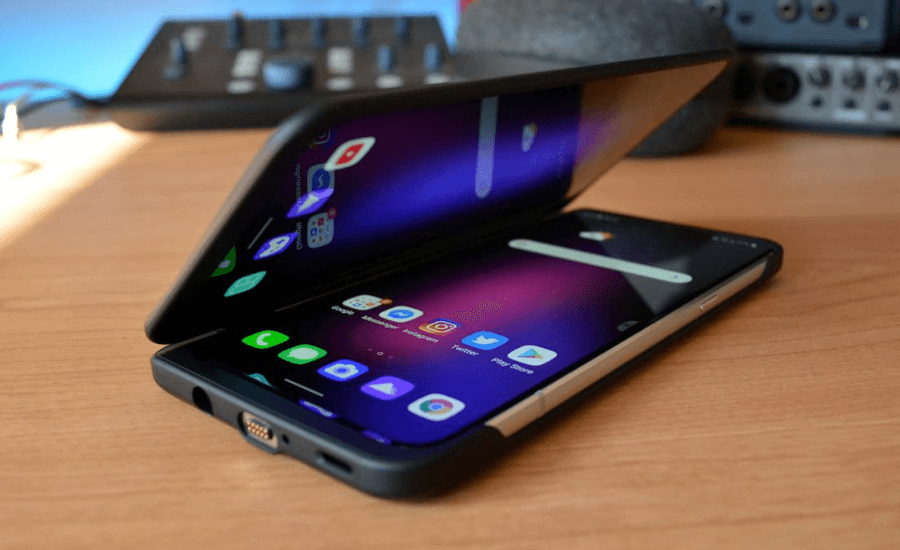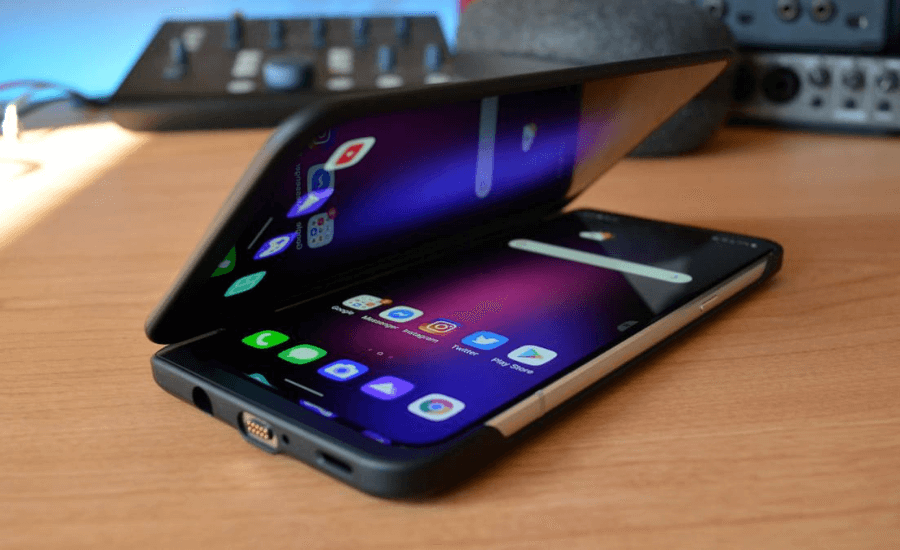 The V60 has an in-display fingerprint sensor, and, like those on previous LG phones, it's not quite as good as those on competing handsets – and not nearly as accurate or receptive as fingerprint scanners located on the back or chin of the phone. 
The LG V60's 64MP f/1.98 main shooter is a capable lens with a 0.8-micron sensor that can maximize light in photos by 'pixel binning,' a process that combines four pixels into one. Doing this reduces the resolution of the main lens's sensor to 16MP but effectively expands the lens' sensor to 1.6 microns, resulting in less sharpness but greater light absorption.
Without an optical telephoto lens, the LG V60 relies on 'crop zoom' that maxes out at 10x by essentially cropping in on a portion of a photo taken by the main camera: this works much like the digital zoom capabilities of other flagships with high-megapixel sensors.
The V60's other rear camera is a 13MP f/1.9 ultra-wide shooter that captures a 117-degree field of view. That's a bit less than the widest-angle camera we've seen on a phone, the 123-degree ultra-wide camera on the Samsung Galaxy Note 10 series.
The LG V60 packs an octa-core Snapdragon 865 chipset, which can be found in most of the leading flagships of 2020, as well as 8GB of RAM and either 128GB or 256Gb of storage (expandable up to 2TB via microSD). In general use, the phone is fast and doesn't trip up when running intensive processing tasks like gaming or streaming media.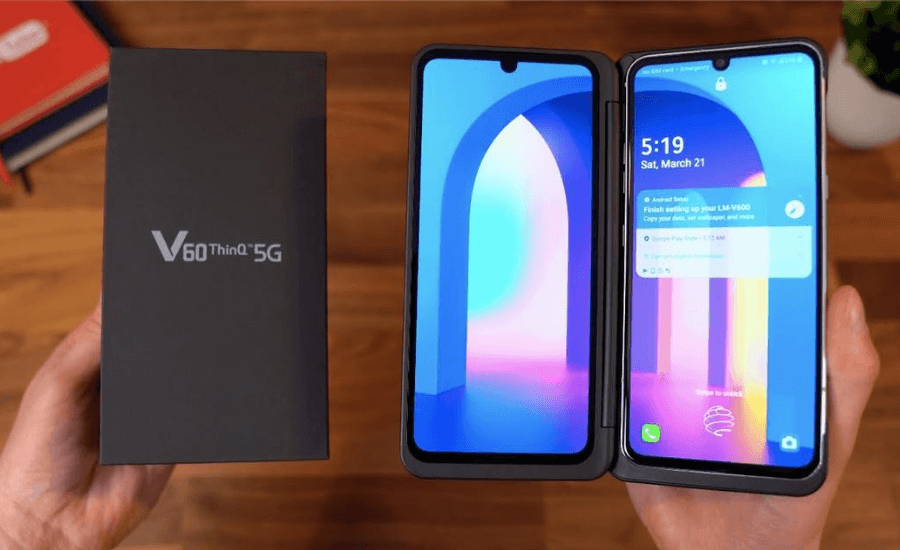 This is especially impressive when you're using the Dual Screen: the V60 is quite capable of running two apps at once and doesn't drag even when simultaneously playing two shows on separate media apps. 
The V60 packs a 5,000mAh battery, which gets you through a day of ordinary usage, with change. In terms of sheer capacity, this is on par with the Samsung Galaxy S20 Ultra. 
The LG V60 officially released on March 16, retailing for $899 (UK and AU pricing TBC). As has been the case with previous LG flagships, this price includes the Dual Screen peripheral.
Foldables are too expensive for most of us, and the only way we're going to get more display space is by unique phones like the LG V60. If you want more screen, even to just have two apps open at once, the V60 is a great option.