Nubia has released a few phones under the Red Magic name without leaving a lasting impression, and 2019's Red Magic 3 was a brilliant gaming device but mediocre for day-to-day-use.
Now, less than a year later, Nubia has put out a phone Nubia Red Magic 5G with a specs sheet that might make you do a double-take.
The Nubia Red Magic was made available in April 2020, and it's available in four models: the Eclipse Black and Hot Rod Red versions (colored accordingly) have 8GB of RAM and 128GB of internal storage and cost $579 / £539 / AU$579 (around AU$910).
There's also a slightly higher-spec version of the Eclipse Black that has 12GB of RAM and 128GB of storage, which will retail for $599 / £559.
Nubia Red Magic 5G Specifications
The Nubia Red Magic 5G is a chunky phone. It has a big, bright 6.65-inch AMOLED display and a deep body to accommodate all the internals, making it heavier than most handsets. It weighs 218g – as a comparison, the Samsung Galaxy S20 Plus, which has a bigger screen, weighs 186g.
But the Nubia Red Magic 5G doesn't feel too heavy. The whole point of this phone is gaming, and when you've flipped it on its side to play games, you'll want it to feel solid and substantial in the hand, which it does.
The Nubia Red Magic 5G's most unique feature is its 144Hz refresh rate display, the first-ever in a smartphone. The previous high was 120Hz, seen on phones such as the Razer Phone 2 and the OnePlus 8 Pro.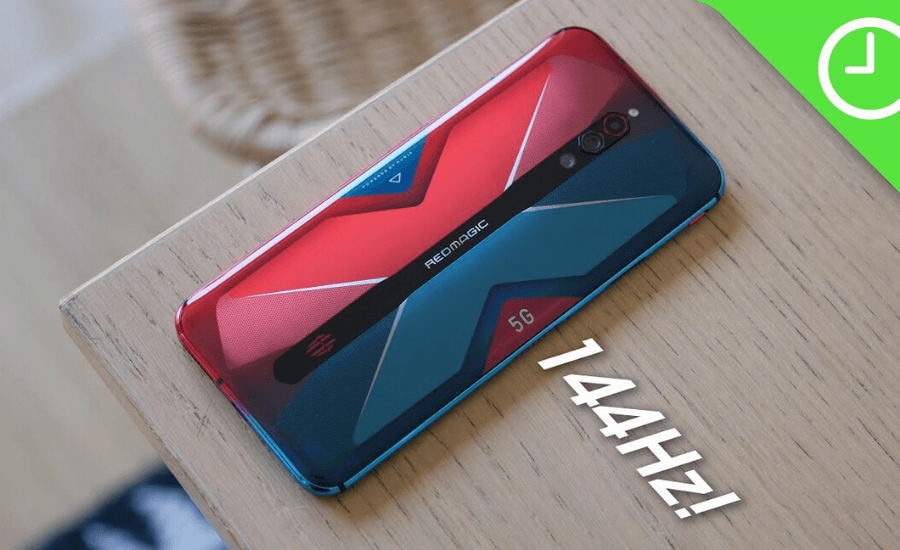 The 6.65-inch AMOLED display is bright and vibrant. Dark colors are properly dark – we used it in Android's dark mode most of the time – and colors pop, especially in 'colorful' mode, which is one of three options you can choose from (the other two are the standard DCI-P3 mode and sRGB mode).
There's good news on the battery front, as the Nubia Red Magic 5G's hefty 4,500mAh battery delivers impressive results. Even with a few hours of gaming every day, getting well into the second day of use before we needed to charge the phone, and sometimes we made it two full days before reaching for a charger.
That's seriously impressive and likely linked to the phone's lower resolution, which draws less power to the screen than rival handsets.
When gaming, we used anywhere between 15 and 20% of charge per hour when running games on default brightness, the highest possible settings, and the highest possible screen refresh rate.
The triple camera setup here isn't the best we've tested, but it produces consistently good shots. The main camera is the 64MP Sony IMX686, the same one found in the mid-range Poco X2, and it's paired with a 2MP macro sensor and an 8MP ultra-wide sensor, which boasts 120-degree field-of-view.
As you'd expect with its powerful hardware, the Red Magic 5G can handle any game you throw at it on the highest possible settings. We spent most of our time playing PUBG, Real Racing 3, and Fortnite with the graphics turned all the way up, and we never met any slowdown or juddering.
The 144Hz display makes a difference. It's not life-changing, but the games that support it feel as smooth as anything you'll experience on your mobile phone.
Only four games support 144Hz: Real Racing 3, Dead Trigger 2, Full Force, and Vain Glory. But that list is bound to expand over the next few years, meaning you'll be future-proofed for the entire life of the handset.
The Nubia Red Magic 5G also supports '4D Shock' in PUBG, Fortnite, and Call of Duty: Mobile, which basically means it will vibrate in time with in-game actions, such as firing a gun.
While the Nubia Red Magic 5G is a treat to use in games, its OS, unfortunately, lets it down when you're not playing. It runs RedMagic OS 3.0, based on Android 10. It's a relatively stock setup, and if you swipe left from the home screen you'll reach your Google Now feed, just like with Google's own launcher.
But it takes its minimalism a bit too far. It's missing some basic features and settings that on their own seem minor, but add up to be disappointing.
It's well worth noting that the Red Magic 5G supports 5G networks, which will be a selling point for some, and which further future-proofs the device. Exact speeds and availability of 5G will of course vary based on your area though, so make sure you check your area's 5G coverage before committing.
There's no denying that the Red Magic 5G represents good value. You pay a mid-range price for high-end processing power, and the world's first 144Hz smartphone screen to boot.
the Red Magic 5G is well worth considering if you're looking to buy a phone in the mid-range and you value both gaming and performance. You get a lot for your money here, and an aesthetic that will turn heads.