If you're just looking at the Honor 9A from a hardware perspective, it offers phenomenal value. For £160 you get a multi-lens camera, fingerprint scanner, and long-lasting battery. But without Google Services, it's a tough sell.
The Honor 9A is the latest in a long line of budget smartphones from Honor, and on a pure hardware front, it's quite possibly the best budget smartphone the company has ever made. For around £160 (roughly $205 / AU$290) you get a triple-lens camera, a long-lasting battery, and a 720p+ screen.
Honor 9A Review
On the size front, the Honor 9A measures in at 159.1 x 74.1 x 9mm and weighs 185g. For reference, that's ever so slightly smaller and heavier than the Samsung Galaxy A11, which is probably the Honor 9A's main competitor.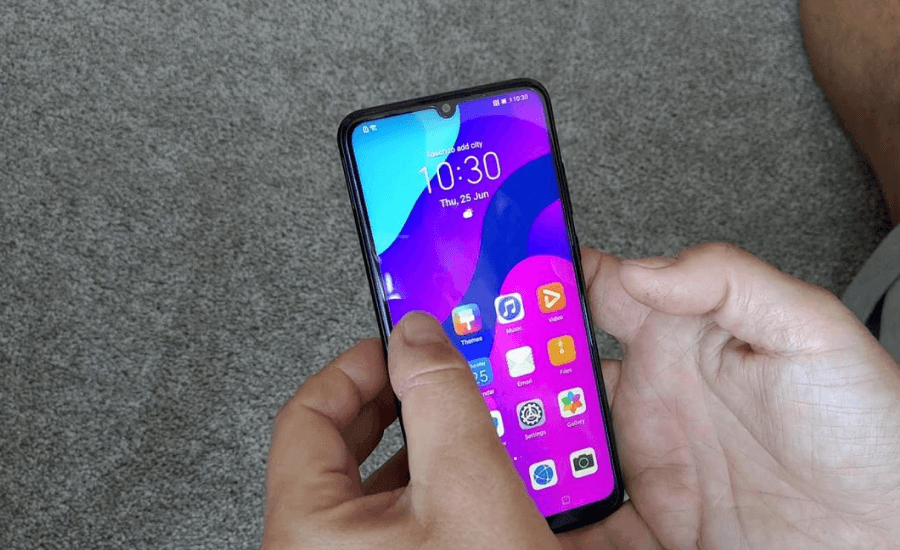 The Honor 9A comes in three color options – Midnight Black, Ice Green, and Phantom Blue. The handset we had in for review was the Phantom Blue option, which is a metallic cyan color.
It's not quite as fancy as the pearlescent purple option that Honor had on the Honor 9X Pro, but it doesn't look too bad until you get your grubby fingers on it anyway. We found this reflective surface to be an absolute magnet for dust and fingerprints once we started using it.
The Honor 9A has a 6.3-inch LCD display with a resolution of 720 x 1600. The screen has an aspect ratio of 20:9 and an 88.4% screen-to-body ratio thanks to the relatively small bezels around the edge of the screen – it's not quite the edge-less display that we see in flagship smartphones, but the black borders here are small and unobtrusive.
The aspect ratio is in line with basically all current smartphones, maximizing screen size while ensuring the device is comfortable and easy to use. We had no issues reaching the far corners of the touchscreen when using the Honor 9A.
The screen is obviously lower quality than you'll find with more high-end smartphones which have 1080p or even QHD AMOLED displays, but we found that the 720p+ display here is more than adequate for watching YouTube videos. It also looks fine when scrolling through web pages or between apps.
When you're looking at budget smartphones, the camera is almost always the first thing on the chopping block when companies are looking to save costs. That's still true with the Honor 9A, and you're certainly not going to get anything that competes with flagship models, but we're still impressed with the camera array in the Honor 9A.
With the Honor 9A you get a triple-lens rear camera array, headlined by a 13MP f/1.8 main lens. In the supporting roles, there is also a 5MP f/2.0 ultra-wide and a 2MP f/2.4 depth sensor.
This is basically identical to the camera setup in the similarly priced Samsung Galaxy A11. It's still great value though, especially when you consider that the iPhone SE (2020) comes with a single 12MP lens and it costs more than twice the price of the Honor 9A.
The Honor 9A is running on an octa-core Cortex-A53 chipset (the MediaTek MT6762R Helio P22) which is a low-to-mid-range chipset. Alongside this, you get 3GB of RAM and a reasonable 64GB of storage.
The phone runs on Android 10, with Honor's proprietary Magic UI 3.1 overlaid on top. Since Honor is owned by Huawei, which is currently engaged in a bitter feud with the US government, the Honor 9A does not have Google Mobile Services.
The Honor 9A has a whopping 5,000mAh battery, which is bigger than the batteries in most of the best smartphones on the market, never mind other budget options. The Moto G8 Power has the same size battery, but even that costs more.
That 5,000mAh battery means that you'll easily be able to get through an entire day without needing to charge your phone, even with pretty rigorous use. In practice, we found that the Honor 9A could easily go a couple of days before it needs to be charged with moderate usage.
If you're looking for a new smartphone and nearly fainted when you saw the price of the Samsung Galaxy S20, then the Honor 9A is a refreshingly affordable alternative. Of course, the S20 is better, but it costs six times as much. Is it six times better? No, it is not.