Huami — the company most well-known for making the uber-popular Mi Band series — isn't trying to build the expensive Apple Watch competitors many people are clamoring for. The company's goal is to get its wearables on as many wrists as possible.
Most fitness trackers are built to handle some sweat, but they aren't necessarily designed to withstand a real beating. The $139.99 Amazfit T-Rex, on the other hand, has military-grade certifications, ensuring you can use it in some pretty extreme conditions.
There's definitely room for an affordable outdoor watch, with the likes of the Garmin Instinct along with Suunto's rugged options still coming in at a significantly higher price. The Amazfit T-Rex – on paper – has the features to make it a pretty formidable adventure companion.
Is Amazfit T-Rex worthy?
Amazfit calls it a smartwatch, but while it offers smartphone app notifications and basic music controls, it lacks features like mobile payments and downloadable apps.
Equipped with GPS and an optical heart rate sensor, it can track your distance and route, and offers continuous and manual heart rate measurements, making it more of a fitness tracker in our book, and from that angle, it's a solid option for the price.
Far from fashionable, the Amazfit T-Rex has a rugged, utilitarian look. It comes in several colors including black, green, and khaki. It's about 0.5 inches thick and weighs 2 ounces. It feels light enough, and its soft silicone band is among the most comfortable one to wear.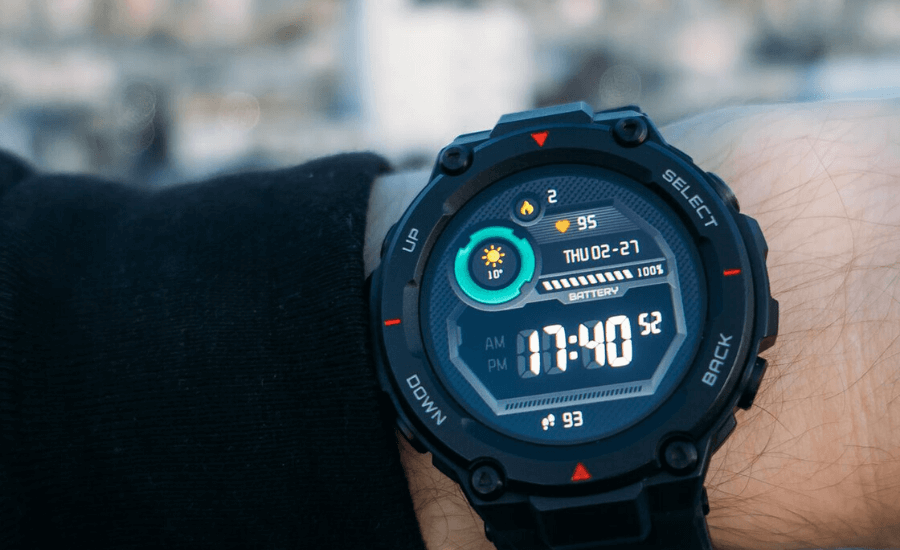 Amazfit T-Rex is a chunky 47mm watch that measures in at 13.5mm thick. Those dimensions suggest you're getting a watch that matches the size and stature of a Garmin Fenix 6, though it's clear the Garmin watch carries that heft in a much nicer way.
The Amazfit T-Rex is almost toy-like in its lightness with the absence of more high-grade materials.
The look is clearly inspired by the Garmins and Suuntos of this world. There's a big raised bezel that surrounds the touchscreen display, along with four textured physical buttons that make it easier to locate and press with a pair of gloves on, while those visible screws are a sign of its rugged build.
At the heart of the T-Rex is a 1.3-inch, 360 x 360 resolution AMOLED touchscreen. The biggest Samsung Galaxy Watch model offers the same size and resolution, so you're getting a similar quality display on a watch that costs around half the price.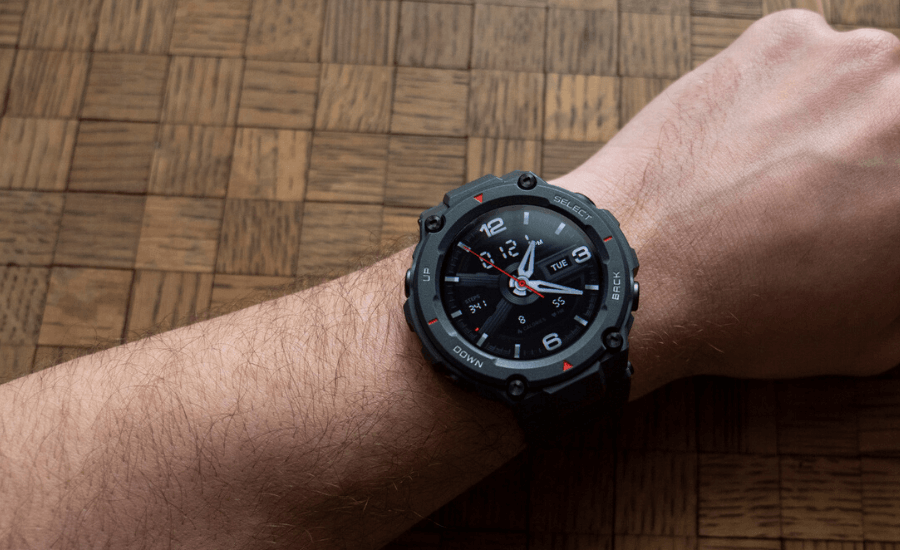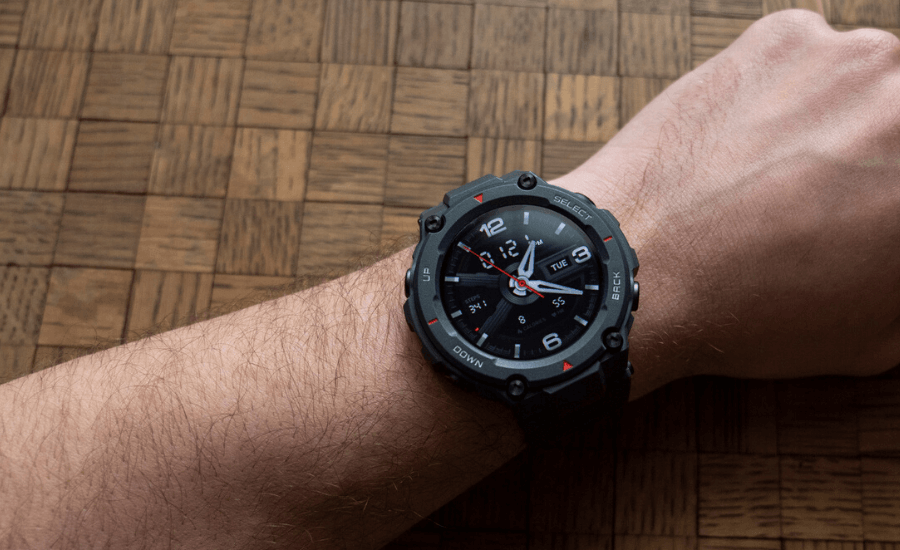 Brightness is strong too, even at auto-brightness, which is invariably kinder on the battery life. If you want to go to the max though, for those night-time adventures, there's plenty of luminance for your activities.
To up the durability stakes, you're also getting added protection with Gorilla Glass 3, and the T-Rex has an anti-fingerprint coating. There's an optical heart rate sensor on the Amazfit T-Rex, which will keep track of your resting and active heart rate throughout the day.
All your fitness stats will populate in the Amazfit app, which isn't too different from the Mi Fit app (both were developed by Huami). The Amazfit app is a little clunky and hard to use at times.
The Amazfit app can integrate with Strava and WeChat, but not Google Fit, MapMyRun, Runkeeper, or any other popular fitness apps.
Buying a crazy-expensive GPS watch from Garmin or Suunto might get you a high-end device, but it also gets you plenty of things you may not use. That's why the Huami Amazfit T-Rex is so appealing.
It's not the best watch in any one particular category, not by a long shot. But it offers the basics at a price point essentially no one else is targeting. You might be able to find a years-old GPS watch for around this price, but even then you're buying old hardware.
Let's just hope Huami improves the software sometime soon.