The move towards wireless earbuds has seen the market boom in recent years and you've no shortage of models to choose from. One big appeal is the freedom. With no wires running between headphones and phone, wireless earbuds won't restrict your movement one bit. That's handy for commuting and general day-to-day life
Some wireless earbuds are true wireless designs too. These don't even have a cable or neckband connecting the buds together, meaning they look just like earplugs. Other extras include noise-canceling tech, touch controls, carry cases that can double as portable
chargers, and some models even boast a built-in heart rate monitor (the ear is a good place to measure your pulse).
We've rounded up the best wireless earbuds on the market, drawing on our extensive back catalogue of in-depth reviews of Bluetooth in-ears.
Top Wireless Earbuds
1. Bose SoundSport Free
Bose SoundSport Free is designed with sporty types in mind, the SoundSport Free in-ears are both sweat- and water-resistant, and have a suitably rugged feel to them. The earbud-mounted controls are very useful and save you from taking your phone out when pounding the pavement.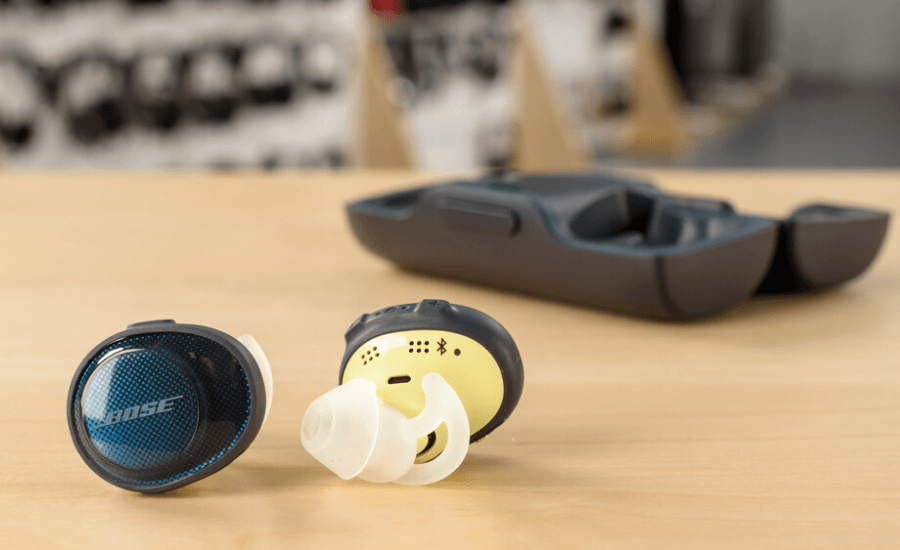 Talking of which, the earpieces are neatly held in place by Bose's StayHear tips which feature little wings that rest against the inside of your ear for extra stability
Five hours of battery life should be enough for a workout, but the solid plastic charging carry case serves up an extra ten hours of power.
Despite all the sporty touches, the SoundSport Frees have more than enough sonic appeal to satisfy commuters. Sound is bold and balanced, with rich, weighty bass and crisp highs.
The price of Bose SoundSport Free is around $199.
2. Sony WF-1000XM3
Sony's second ever pair of truly wireless earbuds, the WF-1000XM3s offer solid and stable Bluetooth connectivity and stellar noise-cancelling, which is a clear cut above the competition.
The fit is excellent, as is battery life and the all-important sound quality. They come with more tip sizes than most rivals, feature intuitive touch controls for playback and volume control, and sound wonderfully musical. Despite their tiny proportions, there's a good sense of scale. Instruments sound natural and authentic, with plenty of detail and composure to the performance.
You get six hours of playback as standard, while the case has enough power for an extra three charges, giving a total of 24 hours when using Bluetooth and noise-cancelling. Plus there's a fast-charge function: 10 minutes of charging breathes 90 minutes of life into these buds.
The price of Sony WF-1000XM3 is around $228.
3. Apple Air Pods
Apple is a brand name that throughout the years, with its high-quality products and overall company impression has turned many consumers into diehards for any product they offer.
With their AirPods, it's easy to understand why. While Apple is notorious for making products that only work with those that are produced by Apple, the AirPods break that trend with limited functionality with Android-based products.
Providing a strong Bluetooth connection in combination with the excellent battery life, which is up to five hours on a single charge, Apple has put their spin on wireless earphones that are better than expected but aren't without issues.
The design can keep them from fitting correctly in someone's ears plus, despite the high-end price, the sound quality can be less than what some audiophiles may be looking for.
The price of Apple Air Pods is around $159.
4. Sennheiser Momentum True Wireless 2
Sennheiser Momentum True Wireless 2s brings a raft of improvements and one of the most refined sounds we've heard from a pair of wireless buds. They're more comfortable to have in place for long listening sessions.
One of the major changes is the introduction of noise-cancelling, which works extremely well and is pretty much on par with the Sony WF-1000XM3. They're nice to use too, with touch-sensitive pads on each earpiece which can be customised to control music playback and features.
Battery life is competitive too, with a single charge giving seven hours of playback and the charging case providing an additional three charges, bringing the total battery life at your disposal to 28 hours.
They're a little pricier than other wireless earbuds, but if your budget can stretch, your ears will be rewarded.
The price of Sennheiser Momentum True Wireless 2 is around $299.95.
5. Jabra Elite 65t True Wireless
On the earbuds, perforations allow various microphones to pick up your voice while making calls but also to mix in outside sounds, which can be adjusted using Jabra's app, available for both iOS and Android.
Jabra Elite 65t True Wireless carrying case can be a bit cumbersome, itself also made from plastic while you make sure that the earbuds are positioned correctly to ensure the case closes the right way to keep them from falling out.
When removed from their carrying case, the Elite 65t earphones turn on automatically, which is a nice feature that not many other wireless earphones have.
The sound quality is excellent as well, giving you a crisp listening experience no matter the song or podcast episode. The battery life is 5 hours according to the manufacturer's information. However, unless you're blasting music at its highest level all the time, you should be able to get more than that.
The price of Jabra Elite 65t True Wireless is around $125.
6. Samsung Gear IconX
You can usually rely on Samsung when it comes to things like build quality, innovation, and performance. Their elegant design and claimed seven hours battery life were enough to catch our attention. But on closer inspection, the Gear IconXs is crammed with features.
Unlike most rivals, Samsung Gear IconX buds boast a 3.4GB internal memory – so you can store up to 1000 tracks in case your phone runs out, or you want to leave it at home while jogging. You also get a built-in Running Coach feature, which logs your time, distance, and burned calories in conjunction with Samsung's S Health app.
While there is a touch of coarseness through the midrange and treble, the sound is musical, with a finely-balanced frequency range and a generous helping of bass.
The price of Samsung Gear IconX is around  $199.