Samsung Galaxy S10e is no longer one of Samsung's newest smartphones, as it was succeeded a year after launch by the Galaxy S20 series, which doesn't have an affordable 'Lite' phone equivalent.
The Samsung Galaxy S10e ('e' for 'essential') has plenty in common with the Apple iPhone 11, and it's easy to see it as the Samsung budget flagship for its line: both pack the standout perks of their generation while shaving off a few extras present in their costlier siblings.
Now that Apple's budget flagship has an ultrawide camera and improved software, the S10e's list of novel features is a bit shorter, though its smaller size is still a bonus for some.
The Samsung Galaxy S10e may pale in comparison to the company's later flagships, but if you're looking for a useful 2019 smartphone that's still better than its contemporary Galaxy A phones, you're in luck.
Samsung Galaxy S10e has a discounted price tag of $599 / £499 / AU$1,199 / AED 2,699 for the 6GB of RAM and 128GB of storage version, and that price goes even lower during deals seasons.
Samsung Galaxy S10e Specifications
The phone officially comes in six colors, though only four are available in the US: Prism Black, The pearlescent Prism White, shimmering Prism Blue, and the new punchy pastel Flamingo Pink.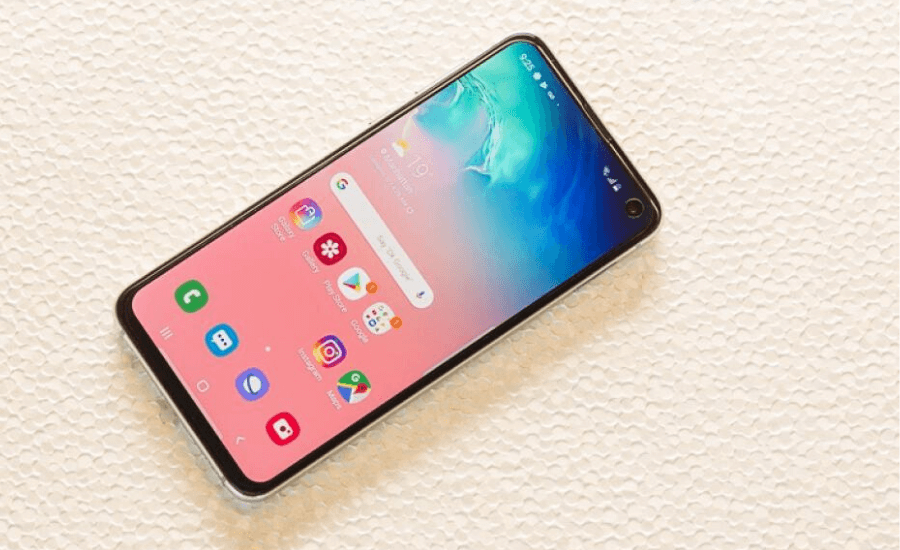 The Samsung Galaxy S10e's left edge has the volume rocker, which is responsive and functional. Below it sits the much-disliked Bixby button, but fear not: Samsung has gamely allowed you to finally use it to activate other apps.
There is a caveat: the button functionality has been split into single and double presses, and one of those must activate Bixby.
On the bottom edge, you'll find a center-mounted USB-C port, microphone port, speaker grille, and a 3.5mm headphone jack. Samsung has kept its trash-talking high ground.
The 5.8-inch AMOLED display lives up to the Galaxy S name, with bright colors and crisp detail. If you don't quite like the color balance, you can tinker with an easy fix called Vivid Mode, which does what it says on the box and lets you further tweak it to be a warmer (more red) or cooler (more blue) picture.
The Samsung Galaxy S10e comes with two rear-facing main cameras: a dual-aperture f/1.5-2.4 12MP main camera with OIS for smoothing out your shaky footage and a 16MP f/2.2 ultrawide shooter.
The S10 and S10 Plus have both of those as well as a 2x optical zoom lens for a triple-lens array that's become standard on flagships like the Huawei Mate 20 and LG V40 ThinQ.
It's possible that users will miss the telephoto lens, but if the phone was going to ditch any of the three, we're glad it was one we wouldn't use as often as the wide and ultrawide.
The other upgrade from the S9 line is the software, which has received some new tricks and other invisible additions.
One of the former is shot suggestions: when the feature is toggled on, it will place a semi-transparent circle, and if you line up your center reticle over it, both turn yellow to signal the ideal composition at least as far as the AI's concerned.
It's a finicky perk that doesn't show up often enough to be super useful, but at least it doesn't eagerly suggest better shots every time you try to take a photo like a nightmare camera-Clippy.
Samsung has added 10 more 'scene optimizers,' which tweak photo settings to especially suit the subject and environment in front of the camera.
The S10 phones are the first in many markets to feature the new Snapdragon 855 chipset and will be for some time into 2019.
Sure, it would be a surprise if Samsung gimped its 'essential' model with an older processor, but it's still nice to see it get a leading chip, especially after Apple did the same for the iPhone XR. The Samsung Galaxy S10e managed a blistering 10,523 average score on Geekbench 4 if you wanted its performance put to numbers.
As for the battery, the Samsung Galaxy S10e packs a 3,100mAh unit, which was plenty to get through the day while managing chat apps, email, and listening to music. Recharging is quick with up to 15W fast charging (and 15W wireless charging), which isn't the fastest-wattage charging on the market, but it gets the job done.
It's hard not to recommend the S10e to anyone who prefers a smaller phone. Size queens, look elsewhere – this smartphone is for folks who want to text and browse apps one-handed.
Considering also the handful of top-shelf perks cut to save costs, the Samsung Galaxy S10e isn't the trophy flagship you flaunt to make the fellas jealous. Instead, think of it as the best flagship you could get from 2016 phone possibilities that still costs a 2016 flagship price.