Over the past few years, Xiaomi has grown to become the fourth largest phone manufacturer on the planet.
Xiaomi has gained a reputation for releasing impressive phones with affordable price tags; however, it seems to have dropped one of those adjectives for its Mi 10 series in 2020, as the phones – and especially the Xiaomi Mi 10 Pro – aren't what most of us would consider 'affordable'.
Xiaomi Mi 10 Pro 5G specifications
The Xiaomi Mi 10 Pro 5G (starting at 999 Euros, or about $1,095) is the company's latest and highest-profile handset, delivering everything expect you expect in a 2020 flagship including a Qualcomm Snapdragon 865 processor, 5G support, and some of the very best camera phone performance we've seen.
Its camera array consists of a 108MP main snapper, and there are also two telephoto zoom lenses (one for long-distance shots, another for the portrait mode), and an ultra-wide snapper. On paper, and indeed in real life, the camera is pretty great.
There's plenty more to like in the phone too, like its snappy charging, premium 'feel' (thanks to its sleek back and gently curved screen) and some of the best speakers we've found in a smartphone, which are as good for music as they are for gaming.
The Xiaomi Mi 10 Pro doesn't deviate from the standard flagship aesthetic. The all-glass phone comes in blue or white with a metallic matte finish. It measures 6.40 by 2.94 by 0.35 inches (HWD) and weighs 7.34 ounces.
The front of the phone is dominated by a curved 6.67-inch AMOLED display with a 90Hz refresh rate. Resolution comes in at 2,340 by 1,080, for a good but unremarkable pixel density of 386 pixels per inch.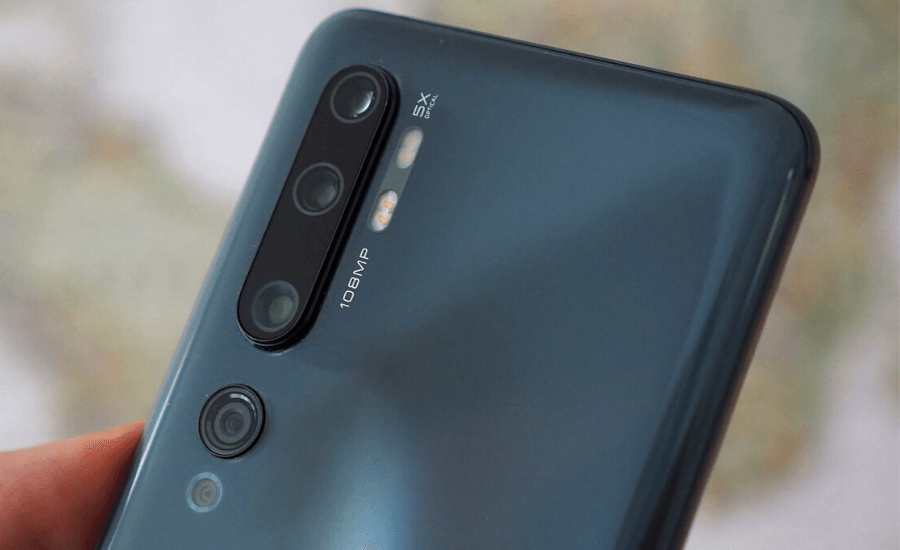 The display is sharp and very bright, making it easy to see in direct sunlight, and color accuracy is excellent. The back of the phone is home to a vertical camera stack and flash in the top left corner.
A speaker sits on the top edge of the phone, while the bottom houses another speaker, a USB-C charging port, and a SIM slot. The left side is bare, while the volume rocker and power button sit on the right. Both provide satisfying tactile feedback when pressed, but can be difficult to reach with small hands.
The Mi 10 Pro 5G is constructed from Gorilla Glass 5 and should be able to withstand minor bumps and drops. There's no official IP rating, however, though the phone has a P2i coating to protect against splashes. As usual, we recommend investing in a protective, waterproof case.
There are a few problems with the Xiaomi Mi 10 Pro too, as its slow fingerprint sensor, or the fact Xiaomi still hasn't solved the bloatware problems its own-brand user interface MIUI always seems to bring. These aren't huge issues, though, and many people will find they can live with them.
In general, it seems the Xiaomi Mi 10 Pro is a great phone at a questionably high price tag. When it's been out a while, and the cost sinks in sales or over time, it's definitely worth considering picking up.