The HP Chromebook 14 is no performance powerhouse, but Chrome OS' speediness combined with a funky blue case makes this one fun notebook to use.
HP Chromebook 14
The HP Chromebook 14 might just be your entry into the world of Chromebooks. It's easy to ignore this relatively new category of laptops. The idea behind them is not all that complicated: a laptop with a lightweight and streamlined operating system that focuses on getting you connected. Your work, play, and everything else are either through a browser or apps that need that internet connection to function. It's a fun, novel idea that is not for everyone.
With its collection of features and decent performance, the HP Chromebook 14 might make you convert, however. If you need something that won't break the bank, will get you online, and help you keep up to date on your emails, then this device is perfect for you. Add to that, a wonderful, bright 14-inch display with an excellent trackpad and keyboard makes this laptop a winner.
HP's Chromebook isn't exactly a high-end PC, but it's a slick, streamlined piece of kit nonetheless. The tapered enclosure measures 0.7 inches (about 18mm) thick at its thickest point. At 3.74 pounds (1.7kg), it's also reasonably light, though not as much as the 13.3-inch, 2.97-pound Toshiba Chromebook 2. That extra weight gives you a slightly larger screen, though, and the Chromebook 14 doesn't feel at all heavy in hand.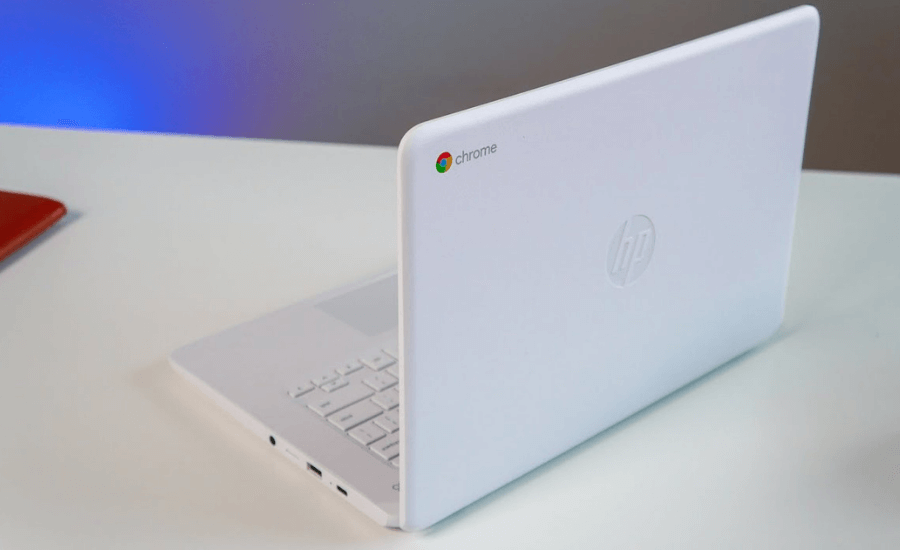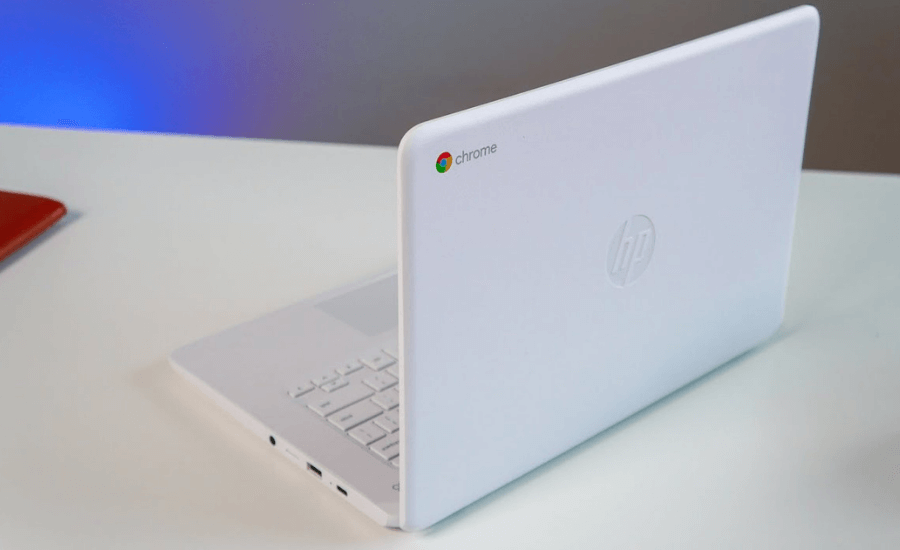 The case itself is entirely plastic, and it does flex and creaks some as you adjust the screen or pick it up one-handed. On the bright side, the case doesn't have any exposed screws, so you don't need to worry about a loose screen dropping out randomly.
You'll find no shortage of inputs on the HP Chromebook 14. The left edge features an HDMI-out port, a security lock slot, a USB 3.0 port, a headphone jack, and a MicroSD card slot. Along the right, you'll find the power connector and two USB 2.0 ports.
With a 1080p display and quad-core 1.83GHz Intel Celeron N2940 processor inside, this Chromebook 14 is the higher-end model that HP offers at $279 or £307 (about AU$193). Though it isn't a technical powerhouse by modern standards, thanks to Chrome OS's minimal bloat and speedy performance, that almost doesn't matter.
These specs generally compare to the Acer Chromebook 15, which features a 1.5GHz dual-core Intel Celeron 3205U processor and 2GB of memory. It's also over a pound lighter than Acer's offering, though the Acer has a 15.6-inch screen. The Acer also includes 32GB of onboard storage, compared to the 16GB on the HP Chromebook 14.
The Chromebook 14 is more than fast enough for day-to-day tasks, but we noticed that it stuttered occasionally under heavy use. Videos would drop frames, for instance, or scrolling would stutter a bit. With more casual web browsing usage, such stuttering was rare, so you shouldn't run into problems too often.
HP claims the Chromebook 14's 3-cell, 37-watt-hour battery can last over 8 hours on a single charge. The 14-inch, 1920 x 1080 screen is bright, crisp, and evenly backlit, with appealing color saturation and contrast. Photos and text appear sharp and crisp on-screen, and its viewing angle is generally good. My one gripe is that Chrome OS lacks an interface scaling feature that lets you increase the size of text and onscreen elements across the system, but that's hardly the screen's fault.
You wouldn't expect booming audio from a laptop, and the Chromebook 14 is no exception to this rule. The built-in stereo speakers are tinny and hollow-sounding, but they're serviceable. On the plus side, the audio is loud and clear. If you're an audiophile, you'll want a good pair of earbuds or headphones.
A Chromebook isn't going to be quite as flexible as a full-on Windows PC or a Mac. No matter how Google dresses things up, you're still relying heavily on web apps to get work done, and ultimately such restrictions aren't for everyone.
Still, with a base price of about $200, the HP Chromebook 14 is a great value for those looking for a basic web browsing machine. It's more affordable than the Toshiba Chromebook 2 while offering a bigger screen. The Acer Chromebook 15 serves up some much stiffer competition with newer components, more memory, and a larger screen, but the HP 14-inch is a bit more compact and better looking to boot if aesthetics are crucial.