HP has given the 13-inch HP Spectre x360 2-in-1 laptop a new lease on life with an attractive redesign, improved hardware, and a massive boost to battery life.
HP Spectre x360 (2019)
With the HP Spectre x360 (2019), HP has built upon the quality of the Spectre line, making possibly one of their best HP laptops. The laptop has a gorgeous, slim design, upgraded internals, and great battery life. And its 2-in-1 capability is impeccable thanks to its top-notch hinge.
The HP Spectre x360 (2019) keeps the ultrabook size and power of previous models. It's just as slim and light as ever. While the foundation is similar and the laptop has some big shoes to fill, It also updates some elements of the design as well as upgrading the components to keep pace with the competition.
Just like HP's laptops, there are quite a few different configurations for the 13-inch HP Spectre x360 (2019) with various specifications and prices to match. The base model comes equipped with an Intel Core i5-8265U processor, 8GB of RAM, 256GB PCIe SSD, and a full HD (1080p) IPS touchscreen. This sells for $1,010 (£1,199, AU$2,499).
For the HP Spectre x360 loaded with an Intel Core i7-8565U and 512GB of PCIe SSD storage (with the rest of the specs the same), the price tag rises to £1,399. In the US and Australia, the RAM gets bumped up to 16GB for $1,330 (AU$2,799).
The design of the HP Spectre x360 (2019) has profited from some subtle changes compared to 2018's model, most noticeably at the top left and right corners, which are now diagonal, giving the Spectre x360 a more unique look.
On the left-hand corner sits the power button, and the right sports an additional USB-C port. The speaker grille that runs along the top of the keyboard has an updated, slick design, and the speakers behind it are again supplied by Bang & Olufsen.
A new addition, the fingerprint scanner sits on the right-hand side right below the keyboard. This allows you to log into Windows quickly and easily by placing your finger on the sensor. The touchpad is centered below the keyboard, and it's large enough for comfortable use.
The keyboard, on the other hand, is much better executed. Despite the HP Spectre x360's slim form factor, the keys offer enough travel to feel responsive and satisfying when pressed. There's no Numpad, but that allows HP to spread the remaining keys across the length of the Spectre x360, and they are decently sized, which is helpful to fast typers.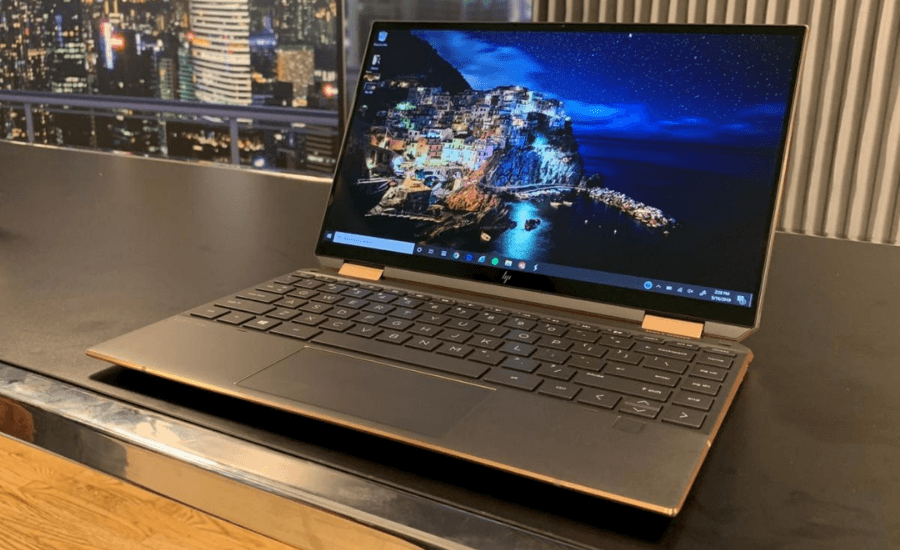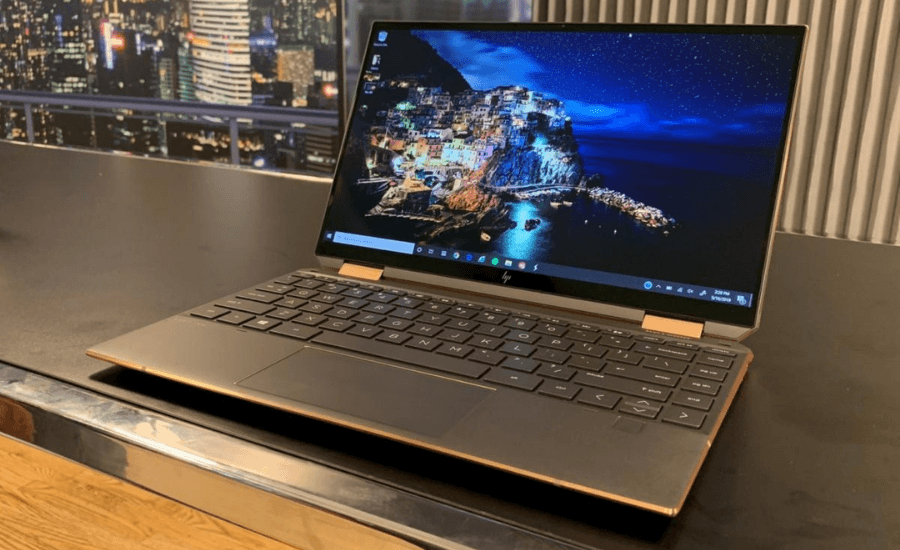 The display is protected by Corning Gorilla Glass NBT, which is essential for any 2-in-1 device to safeguard it from being damaged when in tablet mode. Naturally, it's a touchscreen, and it works fine when you're using a finger, though the HP Spectre x360 (2019) also comes equipped with a stylus (more on that in a moment) at no extra cost.
The screen panel utilizes in-plane switching (IPS) technology, which offers wide viewing angles. Since you can rotate the screen to set it in various configurations, this ensures that image quality remains high no matter what angle the screen is positioned.
The HP Spectre x360 (2019) also has the HP Sure View technology built-in. By switching this mode on, you can drastically limit the viewing angles, which is useful if you're working in public spaces, as it makes whatever is on the screen hard to see if you aren't sitting directly in front of it.
While this isn't powerful enough to run games on (unless you play less demanding games, or set all the graphical settings very low), it's can handle watching and editing videos, as well as photo editing.
HP has been bragging about this year's Spectre x360's battery life, and for good reason, as it manages an impressively long time between charges. In our battery benchmark test, during which we play a looped 1080p video with the screen at 50% brightness, the HP Spectre x360 lasted a whopping 12 hours and 37 minutes.
For an Ultrabook with these specs, that's an excellent accomplishment, even beating the Dell XPS 13 (2019)'s 8 hours and 12 minutes. Sure, there are other laptops out there that boast longer battery life, such as Chromebooks, but they're trading power and performance for longevity.
With the Spectre x360, HP has managed to produce a powerful laptop that runs full Windows 10 with a battery that lasts people beyond a full workday. That's very impressive stuff.
HP has created yet another excellent 2-in-1 device with this year's Spectre x360. A refined design and upgraded internals make it a solid performer with the looks to match. If you're in the market for a laptop that doubles as a tablet, this is a seriously tempting device.
Its build quality, design, and performance go a long way, justifying its high price tag. However, there's no denying that this is a pricy laptop. If you're after a cheaper option and can live without a device that can switch into tablet mode, then there are some very good mid-range laptops out there that will better fit your preferences.